TOP
 > Commitment to Quality



GEX was first firm to be certified for ISO 9001 within Japan pet industry in 2000.
Our production base in Indonesia, LTI, also certified ISO 9002 in 1999 and ISO 9001/2000 in 2003.
We have implemented thorough quality control throughout the entire process of production from design and molding to assembly and have established a solid supply system that achieves the stable provision of high quality products.
*ISO: An international quality management standards.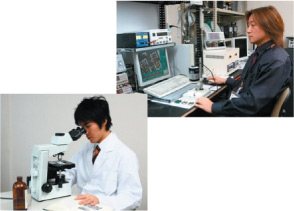 Our professional staffs conduct thorough quality managing system.
Our quality management team consists of specialists in various fields such as electrics, metals, glass, and there is also team to collect and analyze data.
Regardless of the origins, technical guidance and quality inspections are done based on Japanese laws, rules, and our strict GEX rules for all items.
Our quality management staffs check not only inspect pre-delivery items, but also regularly check the supplier's production line and implement any necessary measures that should be taken to ensure safety and satisfying quality of our products.
GEX will continue to pursue and provide the highest quality by following guidelines of ISO 9001 regulations and be prestigious for its quality management system.